CAUSE SURVEYS
2021 Performance Surveys

District Leadership: Site Principals, Supervisors, Directors
Superintendent, Assistant Superintendent,
& the Human Resource Director

============================================
Greetings District Colleagues,
On Dec. 1st, Union leadership released four (4) performance surveys, to be completed by District Unit-Members (i.e.Both employees who are and are not union members; CLASSIFIED & CERTIFICATED).   We appreciate the participation of so many CUSD employees who took a few minutes to record their experience working with CUSD's administrators.

Throughout this week, we have received many requests to extend the deadline we had previously announced (Dec. 10, 2021).  As a result, CAUSE is extending the collection period.
Please make every effort to complete the surveys before the winter break gets underway.  And encourage your colleagues to do the same, which can be done by simply forwarding this to their personal or CUSD.net email accounts.   
Just follow the link below, which will take you to our CAUSE website where the surveys have been posted.  [Go to MEMBER SURVEYS, and select from the scroll-down menu below.]

  Screen shot…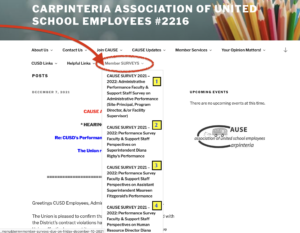 Please let us know if we can be of any further assistance.
============================================
* C.A.U.S.E. – Yes We Can ! *